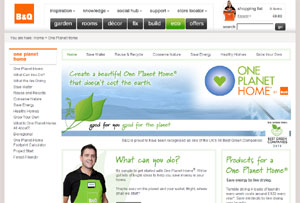 If you're looking to save money and live more ethically, especially in regard to your home, then one DIY retailer is doing its best to help you.
High-street DIY giant B&Q has devoted a section of its website to helping householders reduce their water and energy costs, grow their own food or reuse and recycle more products.
Visit B&Q's One Planet Home pages here >>
The site offers lots of advice on topics as diverse as composting and reducing electricity bills, avoiding certain chemicals in the home and improving air quality.
You can read up on the ethical requirements the company has set itself, including working with suppliers to substitute potentially harmful chemicals, develop water-efficient products and ensure that all our wood and paper products come either from proven, well-managed forests or recycled materials.
Check up on the company's buying standards here >>
The company has also put together a home footprint calculator and project plan to help you assess what you're doing well and where you could make savings and improvements.
To calculate your environmental impact and research ways to live more sustainably and, arguably, achieve a better quality of life, check it out here.