Home accessory and lifestyle retailer Strawberry Fool likes to offer its customers stylish and yet practical products – and therefore this week it is promoting The Designer Shopper by Envirosax.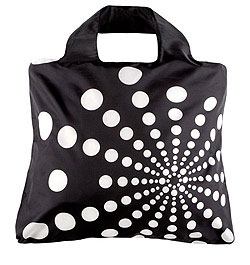 These stylish reusable bags are chic, inexpensive and compact, and they definitely don't sacrifice style to sustainability.
Carry the message of re-use on your shoulder! And, to make them even more desirable, there are a couple of days left on this retailer's current discount codes.
Strawberry Fool is offering five per cent off all orders over £25 (excluding postage and packing) with the code STRAWFIVE and 10 per cent off all offers over £50 with the code STRAWFIFTY until July 31.
Here's a taster of the Designer Shopper range:
Origami is individual, quirky and fun. Influenced by the playful street fashion in Japan where creative fashionistas parade their savvy style. Cute, poppy and a little kooky; be inspired, let your imagination run wild. £5.99.
Tested for strength and safety, this super-strong bag with a charming polka-dot design holds 20kg, is fully washable, won't fade and is super-convenient as well as water-resistant. Fashionable and fun, it is a great gift idea and the perfect solution to one-use plastic bags. £5.99.
Picture summer days by the sea, lazy walks along the esplanade and warm, balmy sunsets . Radiating a blissful happiness, the bright, playful colors, candy stripes and polka dots of this design are a fun way to liven up your summer holiday. £5.99.
Inspired by a fusion of the romanticism of Bohemia and the ideals of the Art Nouveau movement, this design breathes new life into eco-friendly products with a focus on beautiful design. Also check out La Boheme 3. Both designs are £5.99.
The Monochromatic bag exudes inner-city style and sophistication and is styled in classic black and white, timeless and always in vogue. £5.99.